By now if you've been hiding under a rock (and right now, hey – who can blame you!) you know that virtual races are everywhere you go.   What used to be an afterthought for people who couldn't attend a race is now the only way to go for most races, and we are quickly seeing our community leaders and innovators do what they do best – find ways to encourage runners to stay fit and positive.  This of course was a founding philosophy of #wekeeprunning, and it's my greatest pleasure as always to dig up people who are going 'above and beyond' with new creative ideas on virtual events, which are here to stay for at least a while.    Check out some of these, and as always you can skim our virtual events calendar to see these and more!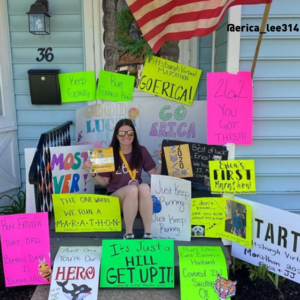 Ever since the popular launch by Lazarus Lake of the Great Virtual Race Across Tennessee, RunSignup has been evolving virtual tech and popular races have been adopting the 'map' tracking idea, including This race in New York, this other race in New York, and upcoming races in California and others.
Including: #wekeeprunning's first challenge in a series celebrating human achievement – The Space Race, launching for the months of June and July!
Lastly, we want to shout out again to #runthevirus,  holding a virtual festival on behalf of Grandma's Marathon and other virtual races, on June 20th.  Choose from several distances and several causes and join the party!
Round 2 coming soon with more upcoming events!